Let me start by asking you a question.
What is that one factor that makes us stronger traders?
Put your answers in the comment section.
Here is my answer…
It's a one-of-a-kind attitude that only a small percentage of traders have. It is, more specifically, the mentality that allows you to remain calm, disciplined, and confident in the face of adversity market conditions or during a period of drawdown.
Now, think of a scenario like this…
You're in the midst of a drawdown. Let's imagine you've lost 3% of your equity since your last equity peak and you're now losing trades after trades. Isn't it frustrating?
However, if you can calmly execute your trading strategy without breaking any rules or allowing emotions to drive you, you know that you will eventually be able to recover from this drawdown if your trading system has a positive expectation, right?
After that, when you're having a drawdown like this, you'll be able to easily get through it because you've already experienced adversity and overcome it. As a result, whatever bad market conditions you encounter in the future, you will be able to handle them with ease.
Therefore don't be afraid to face adverse market conditions. Fight with adversity and build your strength as a trader. That is what makes up longer-term and sustainable traders.
Alright, with that let's break down the trades we closed in the last week.
We closed three trades in the last week.
GBPUSD Long – (-1R)
USDCAD Long – Breakeven Trade
GBPJPY Long – (-0.39R)
GBPUSD Long Trade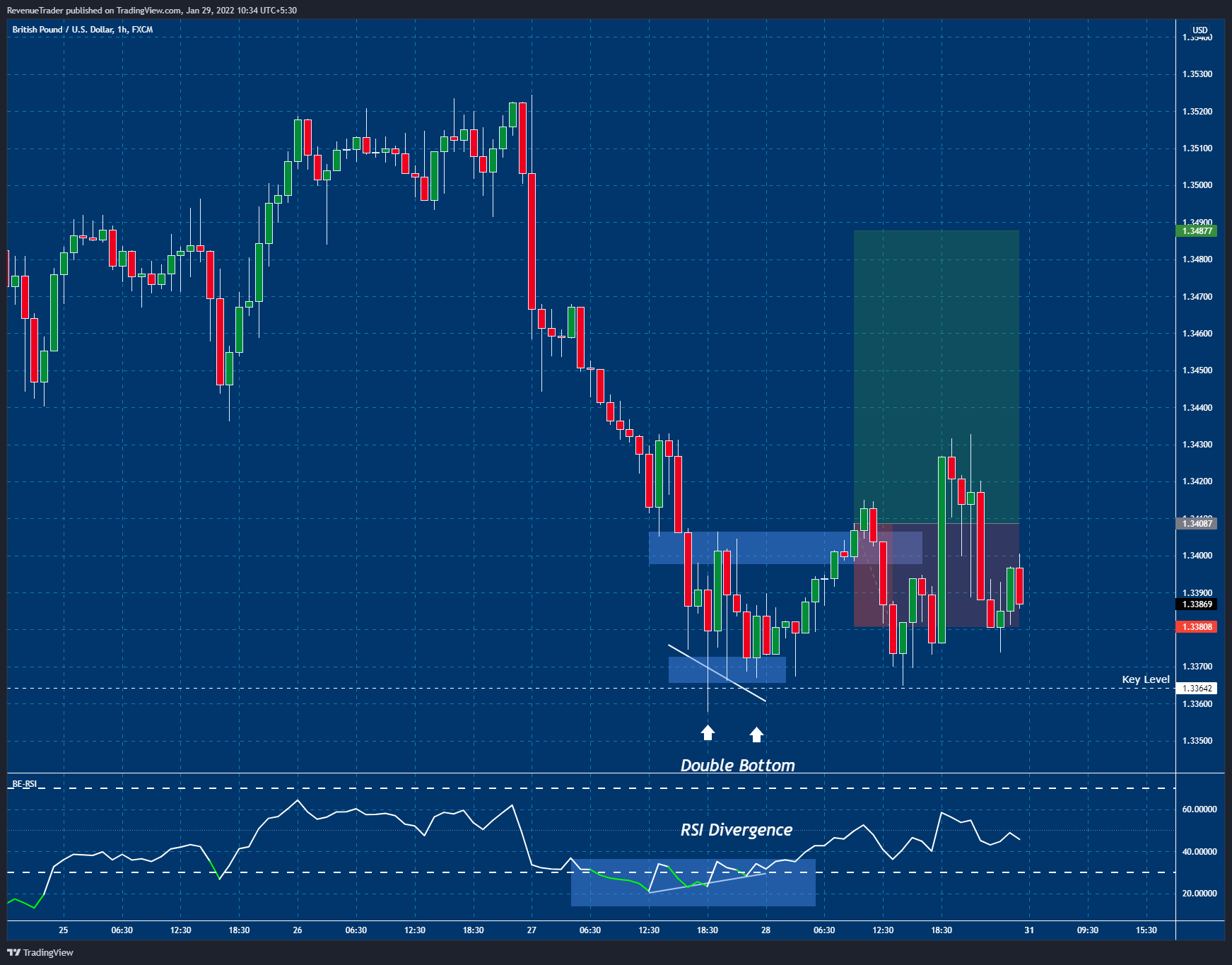 First Closed of the week which resulted in negative -1R and that is fine because on trade cannot decide my trading career.
Now have a look at the strong downtrend in the above chart. It is very strong bearish momentum, right, and it is almost like we look to catch a falling knife.
The first confluence that got me interested in this long trade on GBPUSD was the RSI divergence and double bottom pattern. These two confluences indicate a lack of bearish momentum and the buying pressure that slowly building on this pair.
Next both these confluences aligned nicely at the daily key level which make this area even more probabilistic.
With these confluences in hand, we placed a buy stop order a few pips above the neck of the double bottom pattern and as you guys can see price ended up moving back down right after it break above the neck which resulted in a negative 1R for GBPUSD.
USDCAD Breakeven Trade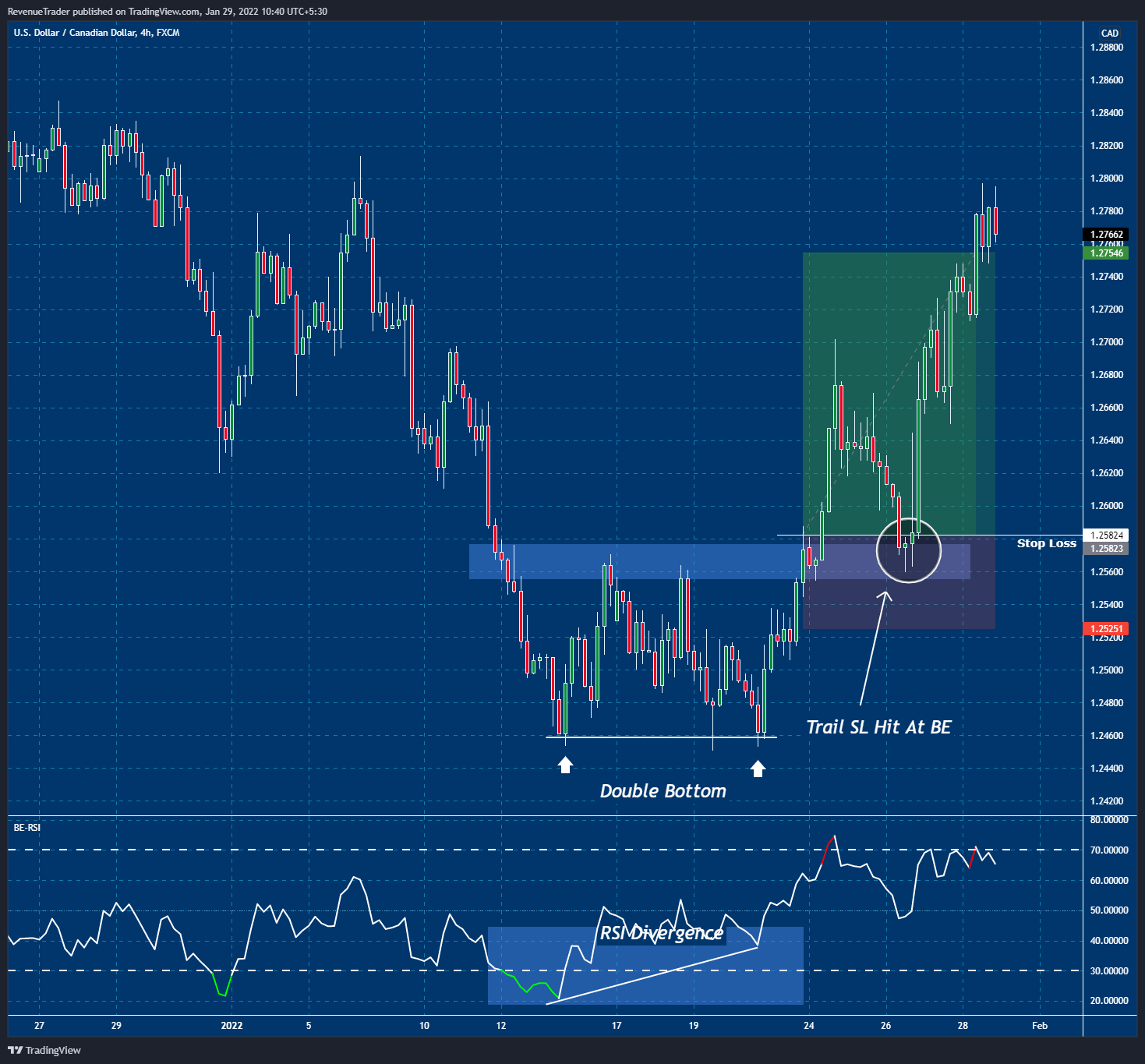 This trade worked perfectly but ended up hitting trial stop for a breakeven trade.
Just like the GBPUSD long trade, RSI Divergence with the Double Bottom pattern indicates that sellers were struggling to push the price lower which resulted in sideway price movement for a few days and this is what made keep USDCAD on my watch list.
Have a look at the above chart. We placed buy stop orders right after the price broke above the local structure level target the previous market structure.
Trade moved in our favour for quite some time and that is where we moved SL to breakeven to make the USDCAD position a risk free one and finally, price retrace back to the local structure level before moving further high. This retracement hit out SL and we were able to exit the trade while still covering the commission.
GBPJPY Long Trade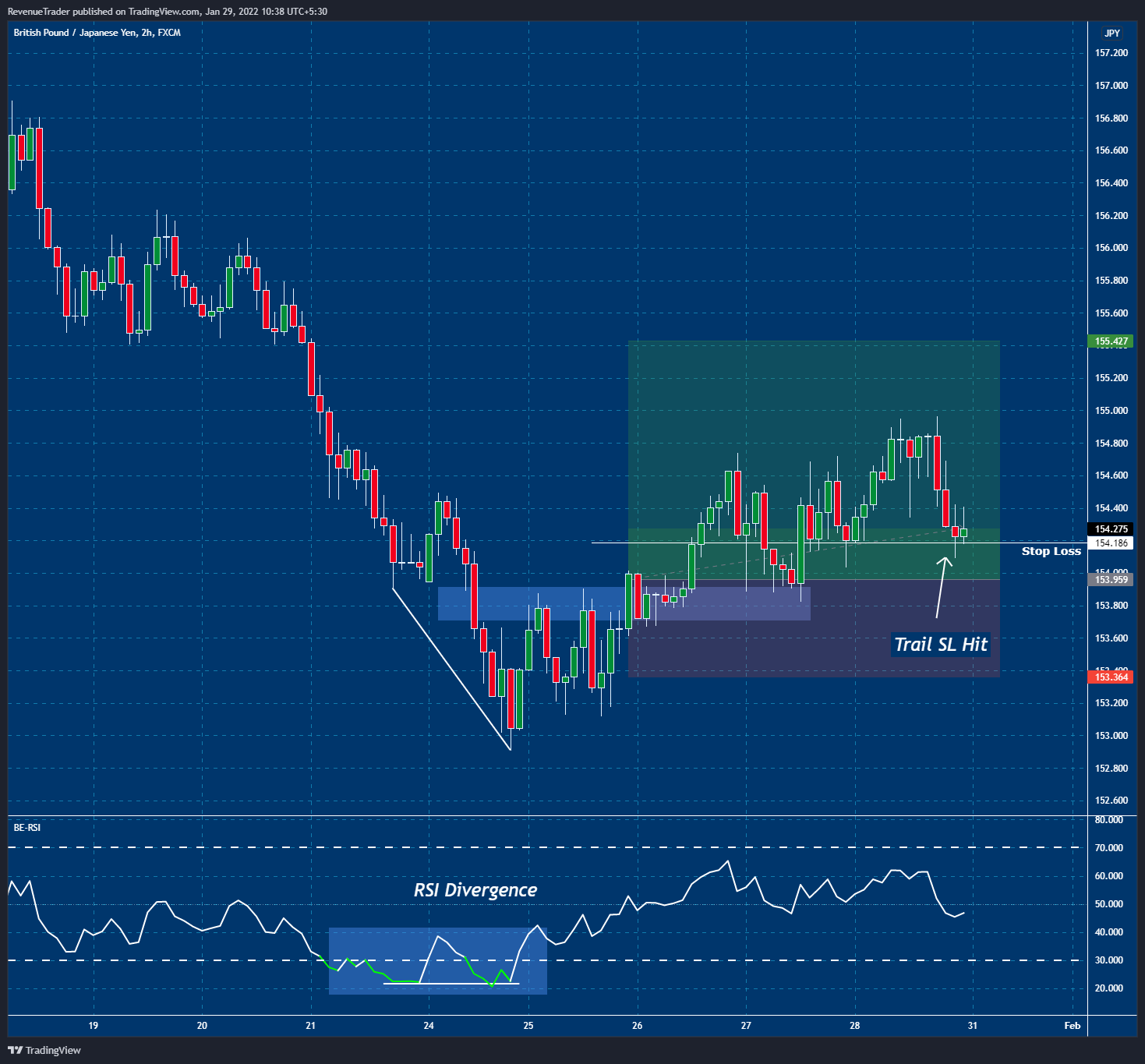 This is totally identical to the GBPUSD trade. GBPUSD and GBPJPY were moving the same in the last week. Downtrend was the same as the GBPUSD and there is no huge difference in terms of entry time as well.
The Huge RSI Divergence indicates that both price action and RSI are out of sync suggesting a lack of bearish momentum just like the GBPUSD.
So we waited for a price action to break above the local structure level before placing a buy order and as you guys can see in the above chart our buy order got filled as the price broke above the local structure level.
After GBPJPY started to move sideway just like the GBPUSD. Although GBPJPY started to move sideways, the price action keep moving higher slowly which allow us to trail the stop loss with the structures and at the end price eventually retrace back and hit the stop loss for +0.39R.
So, we were able to close the week will a small negative -0.61R and in percentage, it is negative -0.3%. In terms of risk management perspective, this is not a bad week, right?
Finally, Besides these trades, Did you execute any trades? if so, let us know in the comment section.
With that…
Head over to Trade Article section to learn more about how to trade forex with Proven Trading Techniques and Strategies.
Want more Trade Ideas – Head over to Trade Idea Page.
That is all for this week and If you want constant trade updates – consider following Trade Revenue Por on Tradingview.
Also, consider following us on social media Youtube, Pinterest, Instagram and Facebook.