We've just gotten off to a great start in the new year, and I thought it'd be a good idea to share the trades we've executed so far in January 2022 with you. This month was an excellent example of how one solid month can take your trading performance to a whole new level.
You might be wondering what I did differently to get a whopping 11.28R in just one month.
Well, I did exactly the same thing I had been doing for the past months and years. This has been a fantastic month, and our trading strategy has performed admirably. Of course, there will be some challenging months along the way, but there will also be many great months.
The key point is no matter what the situation, stick to your trade plan and risk management rules and profit will follow naturally.
With that Here are the trades we executed in January 2022.
AUDUSD Short trade – (+3R)
EURJPY Long trade – (-1R)
GBPUSD Short trade – (+4.66R)
EURUSD Short trade – (+4.62R)
With that let's break down these trades.
AUDUSD Short – Almost Hit the Stop Loss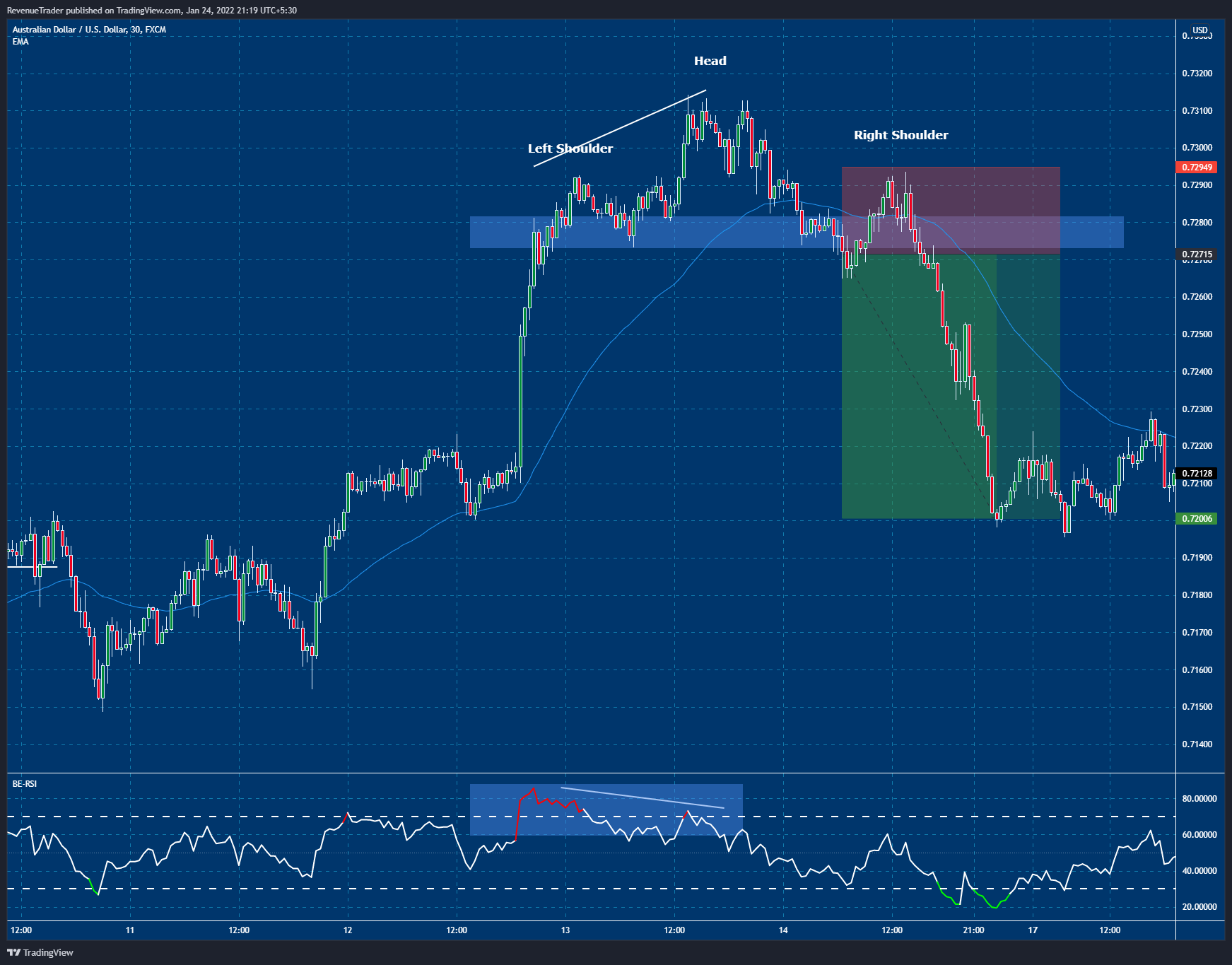 If you've been following trade revenue pro for a while, you're probably aware that this reversal trade is identical to the other trades we've put on the site.
That is known as consistency, and it is a skill that you must master if you actually want to be a high-performance trader.
Now, let's break down the above trade.
First, if you look left at the chart you can see that AUDUSD was in a strong uptrend with price consistently making new Higher Highs. This indicates the dominance level of the buyers.
But have a look at the marked area on the RSI indicator. It shows Divergence while the price actions are still making Higher Highs. Simply both the RSI and price actions are out of sync AKA Divergence. This was our first confluence that telling buyers may run out of the steam and therefore we may have a small possibility for a trend reversal.
Right after that divergence signal, price strong pushed down and break below 50 simple moving average confirming the momentum shift. Now sellers are back in the market and all we have to do is place the trade.
But how?
We just simply use the Local Structure Level to time our trade. Wait for the price to break below the local structure level and sell the AUDUSD targeting 3R profit.
As you guys can see on the above chart, upon execution price moved against in our favour and almost stop us out from the trade. But fortunately, sellers ended up gaining control over the market and pushed the strongly down and hit our take profit target.
EURJPY Long Trade – One and Only Loser of the Month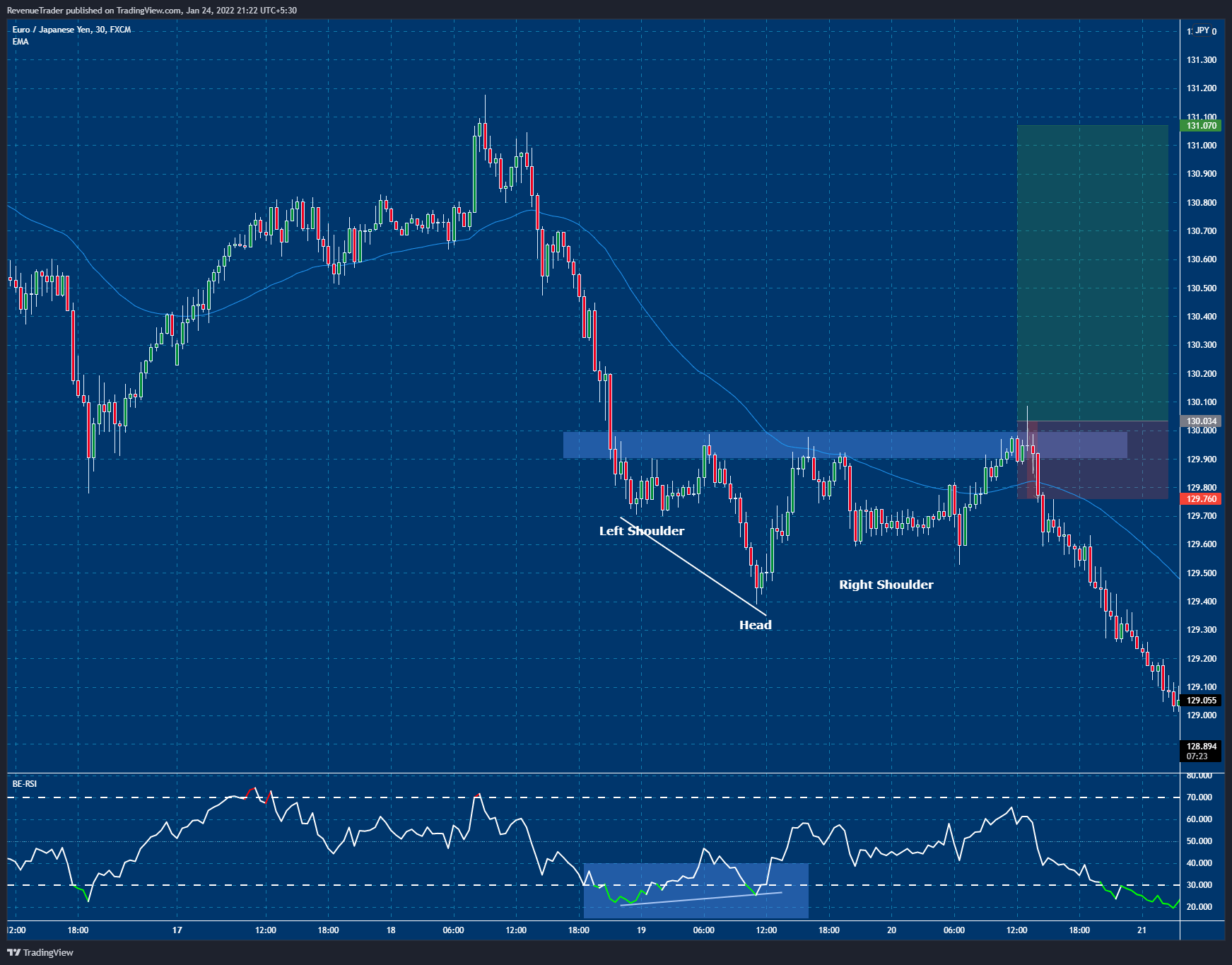 Again analysis and the execution are the same just like the previous trade. But it is just the outcome that different from the previous trade.
But as traders we already know that it is okay to have losing trades. Because at the end random outcome will bring consistent results over a large sample size, right?
Now on the left side of the chart, you can see that the EURJPY was in a strong downtrend until the RSI showed a divergence signal.
This is where I got interested in this pair. Even the inverse head and shoulders pattern suggested that sellers were losing their momentum and therefore the possibility for a trend reversal is much higher.
So we ended up buying this pair upon the break of the neckline and then the downtrend continue to move lower costing us -1R profit.
GBPUSD Short Trade – Another Huge Winner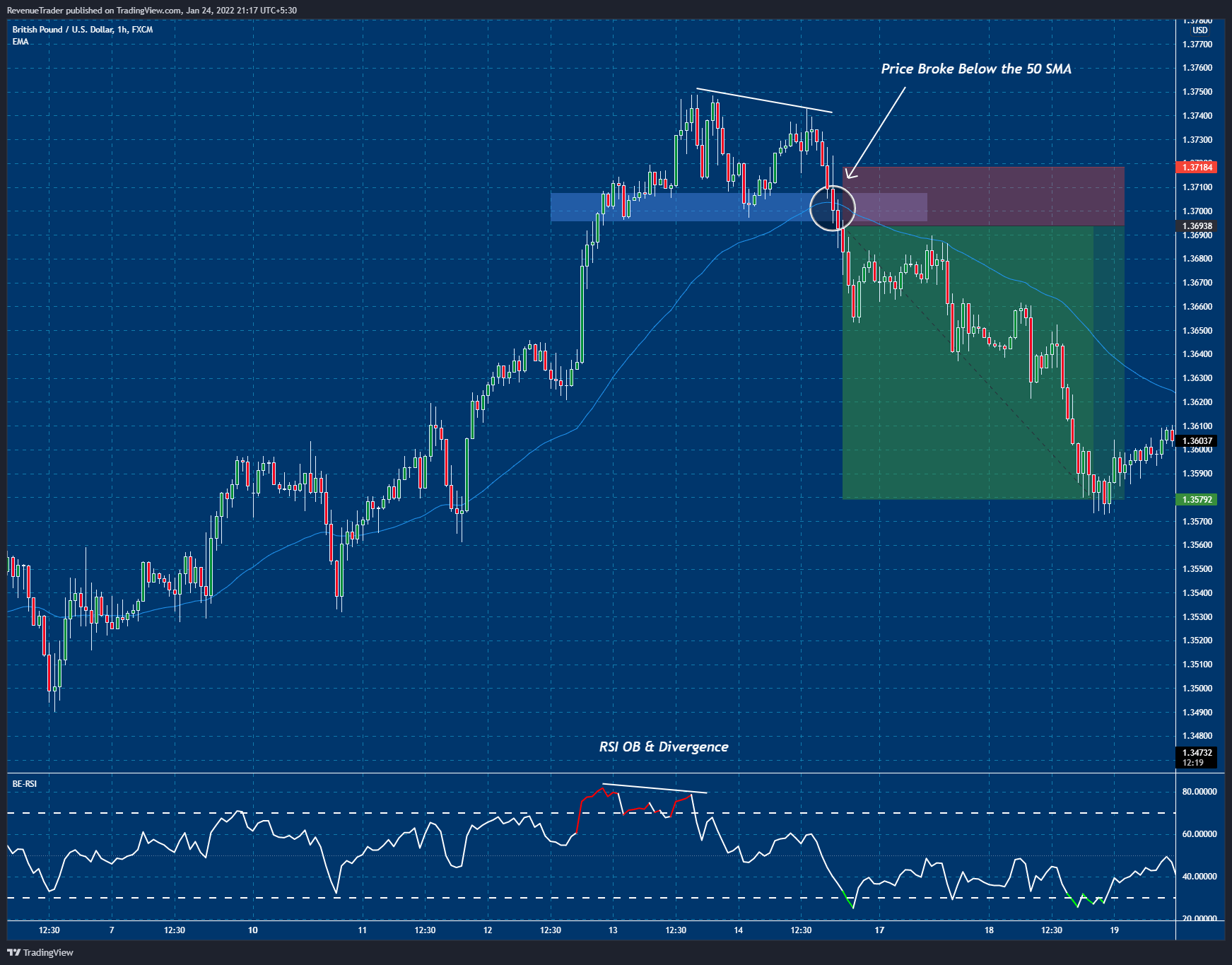 Perfection is at its best, right?
Upon the trade entry, the price never moves against in our favour even in one PIP.
Just like the previous trades, the strong bullish trend we see on the left side of the chart started to fade away as the RSI divergence indicate a lack of buying pressure.
Have a look at the top of the chart. On there, the price did try to break the previous high but ended in failure and this almost creates a double top.
Right after that price pushed down and break below the moving average and the local structure level which is also our sell signal and as you guys can see that price ended up hitting our take profit target for a massive 4.66R.
EURUSD Short Trade – A Massive Short on Major Pair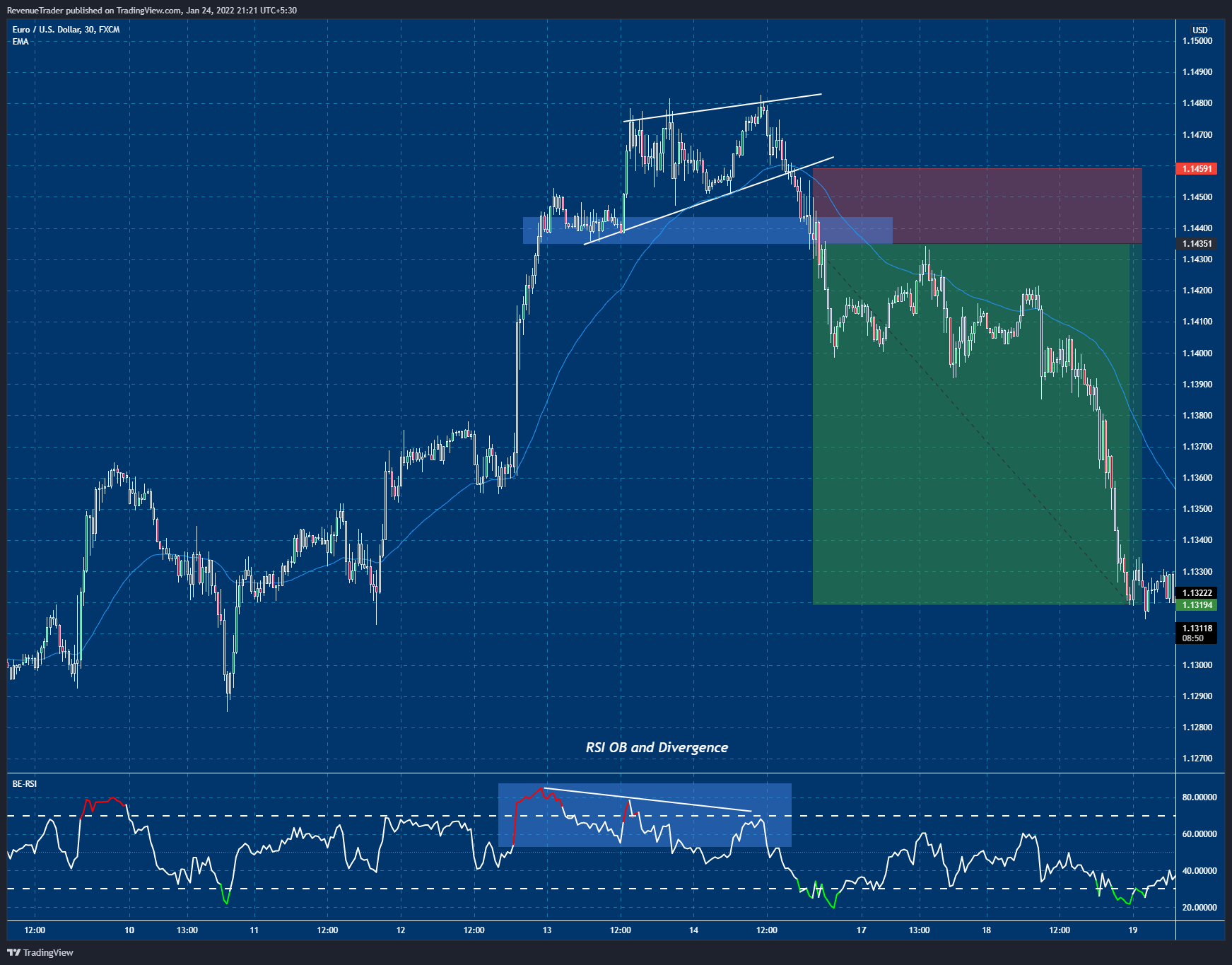 This is the final trade. Again just like the previous trades, The RSI OB and divergence indicate the lack of buying pressure of the ongoing uptrend. This is why marked this pair on my watch list.
Next Have and look at the rising channel which a reversal pattern and this even confirm the possibility of the market reversal. Now we are in a high probability area to look for reversal trade opportunities.
Then price broke below the 50 SMA indicating momentum shift and finally price broke below the local structure level and this is where we place our short trade. Just like the GBPUSD and AUDUSD, price strongly pushed down and ended up hitting our take profit for 4.62R.
In total, we were able to gain 11.28R in just a single month. In percentage, we were able to gain 5.64% which is a phenomenal gain for a single month.
Finally, Besides these trades, Did you execute any trades? if so, let us know in the comment section.
With that…
Head over to Trade Article section to learn more about how to trade forex with Proven Trading Techniques and Strategies.
Want more Trade Ideas – Head over to Trade Idea Page.
That is all for this week and If you want constant trade updates – consider following Trade Revenue Por on Tradingview.
Also, consider following us on social media Youtube, Pinterest, Instagram and Facebook.