I haven't written a weekly market analysis or trade review article in a long time. It's difficult to keep up with the trading blog while actively trading and studying.
But I'll do my best to keep these articles updated on a regular basis.
Now, before we get started, let me know how your trading has gone thus far in the comments section. Is it Red or green?
For me, last week was an awesome week with a massive 12.8% gain.
We had 5 trades in the last week with three profitable trades and two losing trades.
AUDUSD Short Trade – +6R
EURAUD Long Trade – +6R
EURUSD Short Trade – (-0.5R)
EURUSD Short Trade – +1.5R
EURUSD Short Trade – (-0.2R)
With that let's move forward and talk about the first trade.
AUDUSD Short Trade – Easy 6R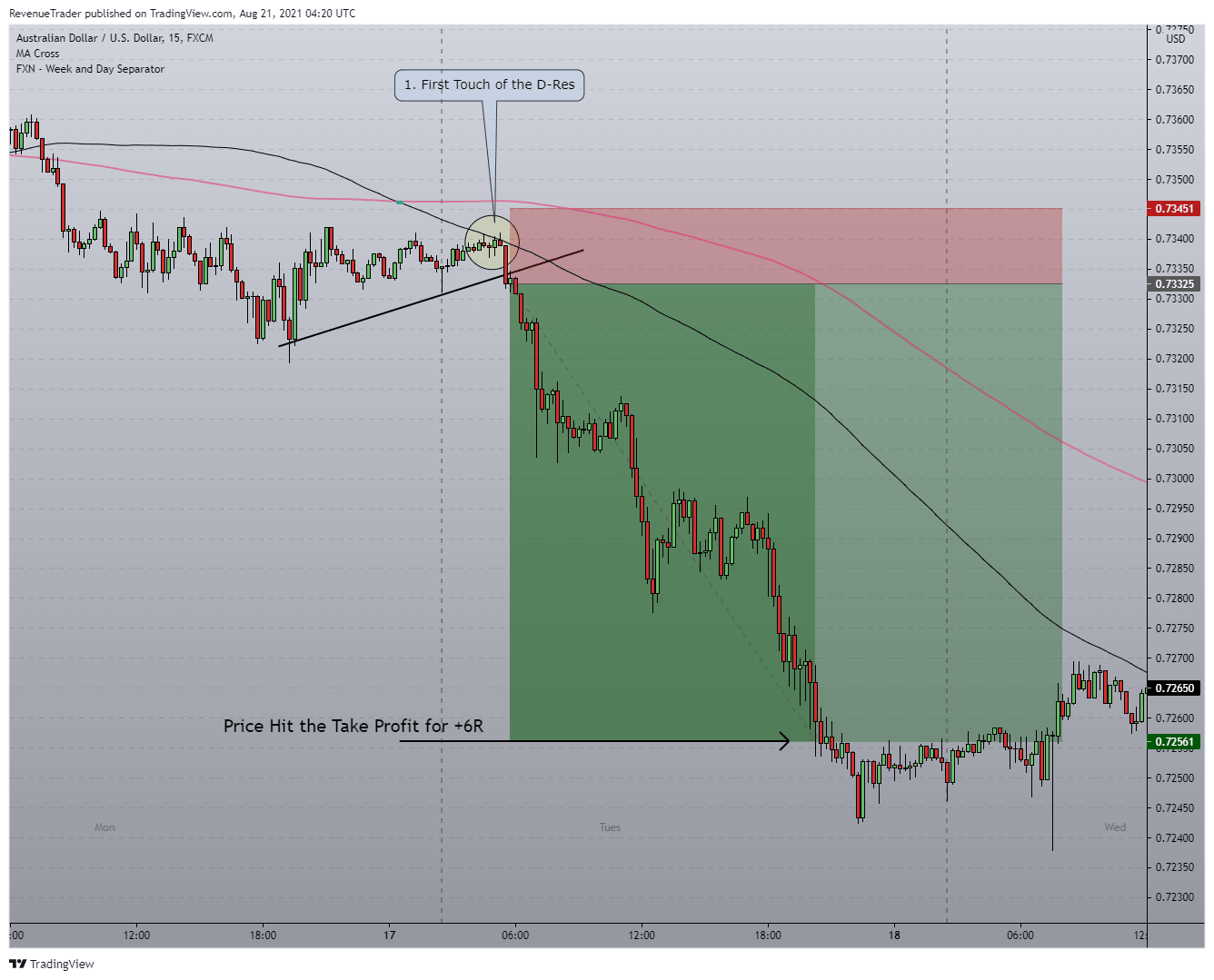 This is the first profitable trade entry for the last week. Just have a look at the above trade. It is perfect, right?
Ok, now let's break the down above trade.
Have a look at the pullback to the D-Res. That pullback happened just after the bearish moving average crossover. Since both these align together, we were able to get into the downtrend early and were able to ride and catch the first impulsive move to the downside for massive 6R.
EURAUD Long Trade – Another Easy 6R Winner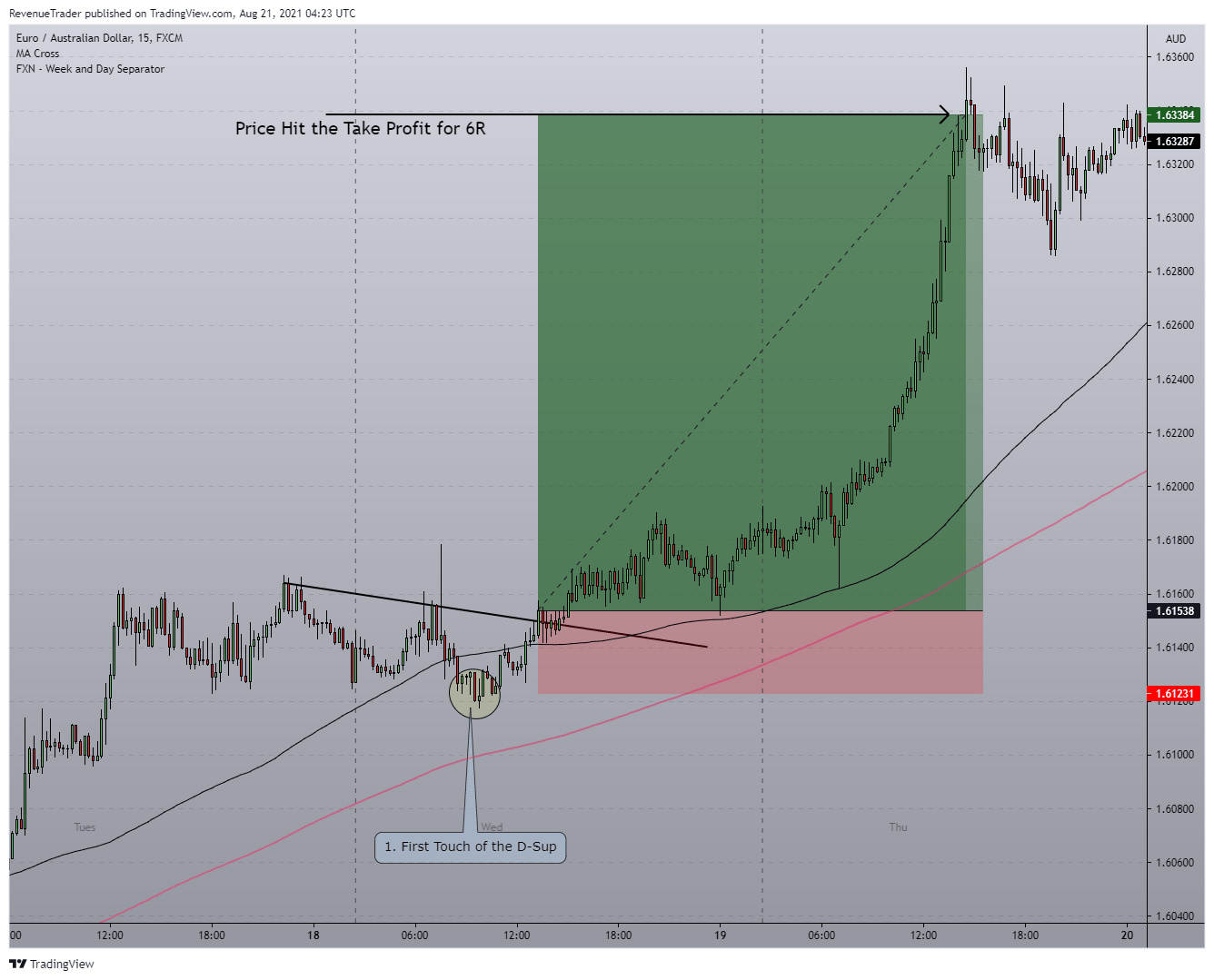 We were able to get another great trade entry on EURAUD shortly after getting a perfect entry on AUDUSD.
This is a chart of 15 minutes. Take a look at the moving averages to see what they suggest. The shorter MA is above the longer MA, and both are pointing upward, indicating a strong uptrend. We got the first touch of the D-Sup while MA's were perfectly aligned. This is where our interest began to rise.
We established a counter trendline immediately after the price touched the D-Sup and waited for it to break above to go long. As shown in the following chart, we eventually got what we wanted and went on a buy trade. After that, the price swiftly rises and hits the take profit point without any difficulty.
Just like the previous trade, we were able to gain +6R on EURAUD.
EURUSD Short Trade – We Were Able to Cut Losses on This Trade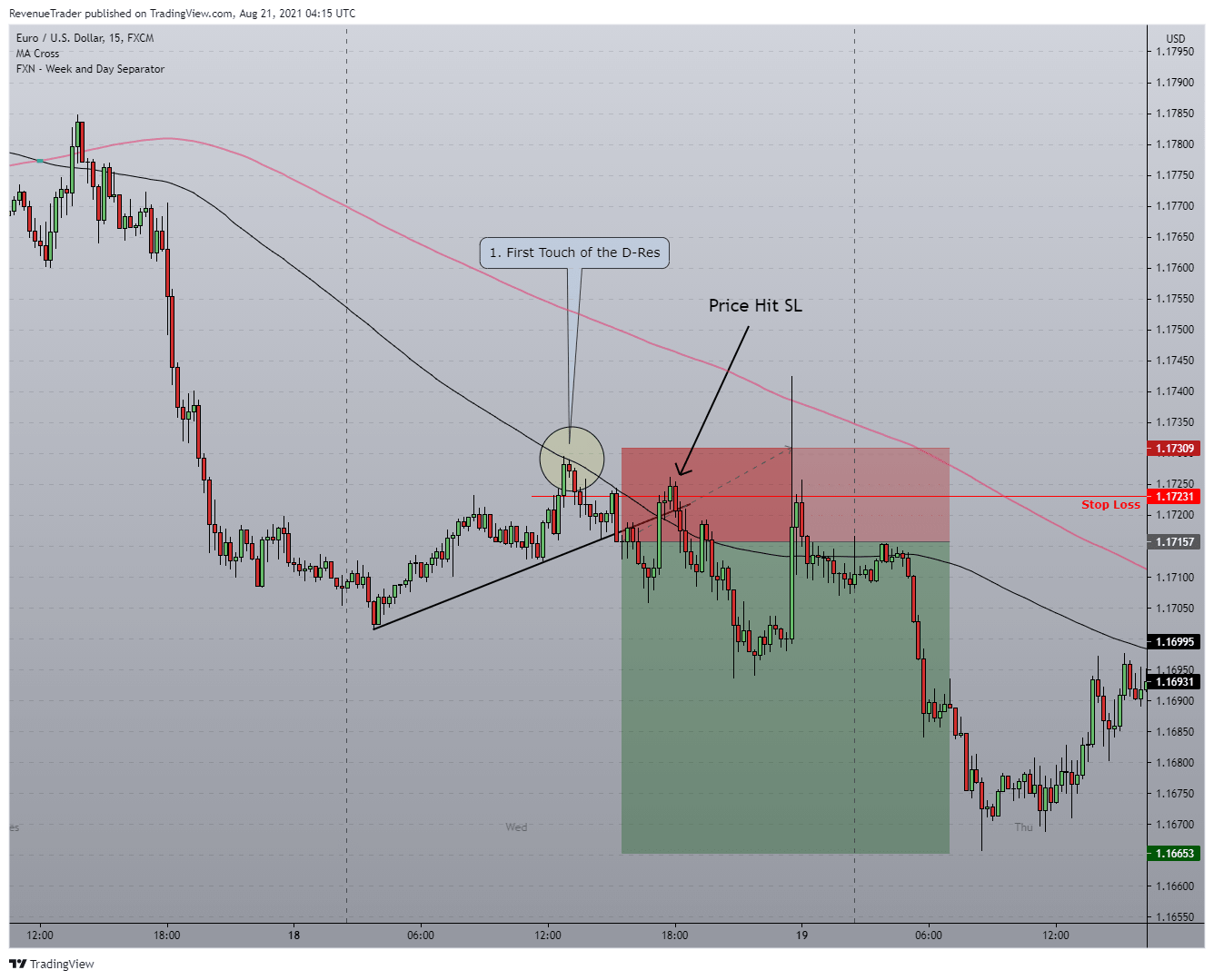 Observe the above chart carefully.
Both moving averages, like the previous example, indicate a strong downtrend. We got the retracement and initial touch of the D-Res at that time, so we drew a counter trendline and waited for a break below. Price broke below the counter trendline shortly after the D-Res was touched, and we entered a short trade there.
However, shortly after getting our trade entry and breaking below the counter trendline, the price moved against us and hit the SL. Since we are cutting 50% of the losses after the closed of 4 candles upon the trade entry, we were able to cut our losses from (-1R) to (-0.5R).
EURUSD Short Trade – Bounce Back from The Previous Loss on This Pair.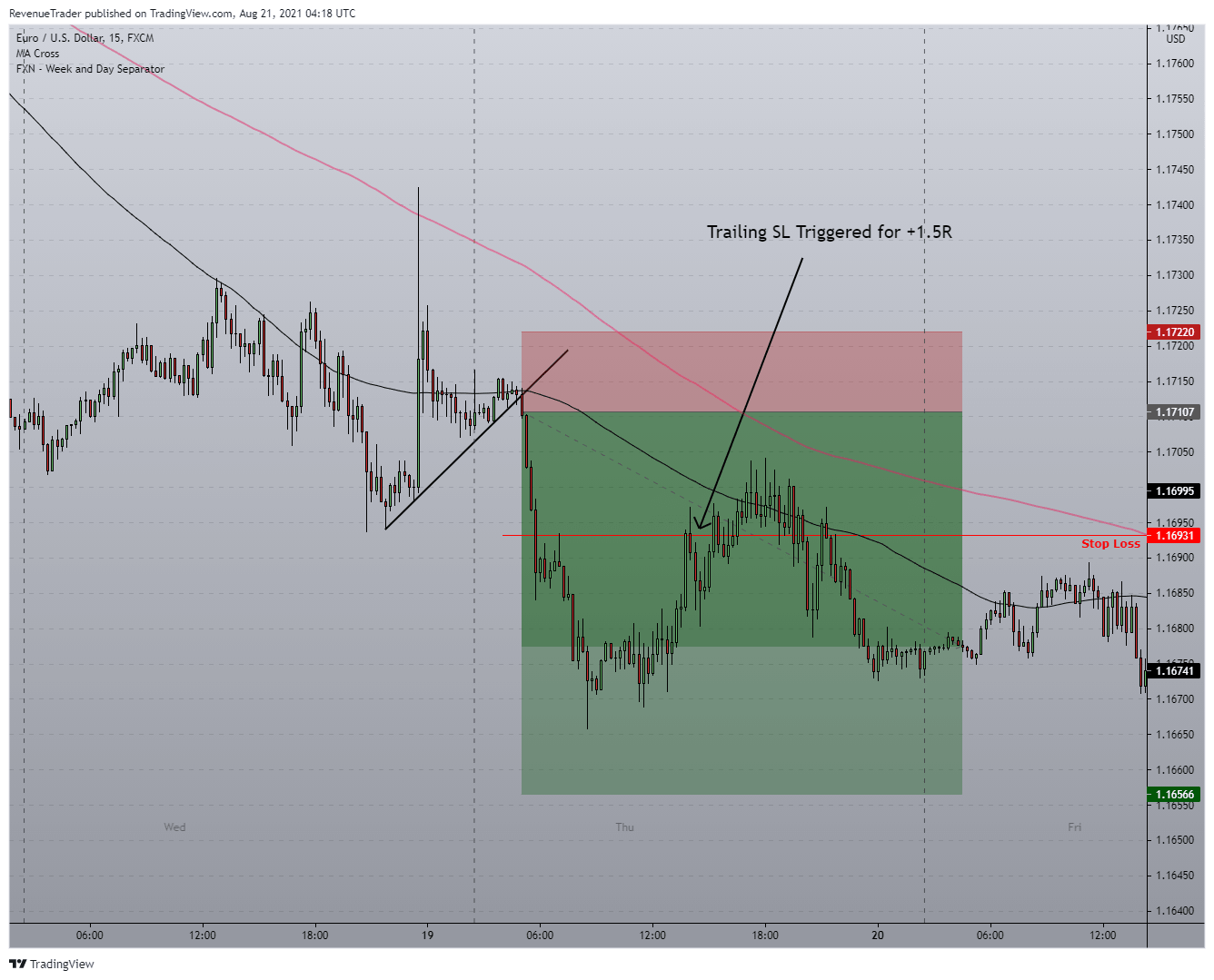 Just after losing the previous trade on EURUSD, the market offer another trade on EURUSD on the same side. Although this trade did not reach the desired take-profit level, we were able to gain 1.5R profit on this trade, which helps us cover the -0.5R loss that happened on this pair.
This is the same as the previous trade. Moving averages are suggesting a downtrend and at that time, we got the pullback to the D-Res and just after that we got a break and closed below the counter trendline marked in the above chart. This is where we placed a short trade.
Although price moved in our favour after the trade entry, sellers were unable to keep that momentum and the price started to move back up, which resulted in triggered our trailing SL order for +1.5R.
EURUSD Short Trade – Complete the Week With -0.2R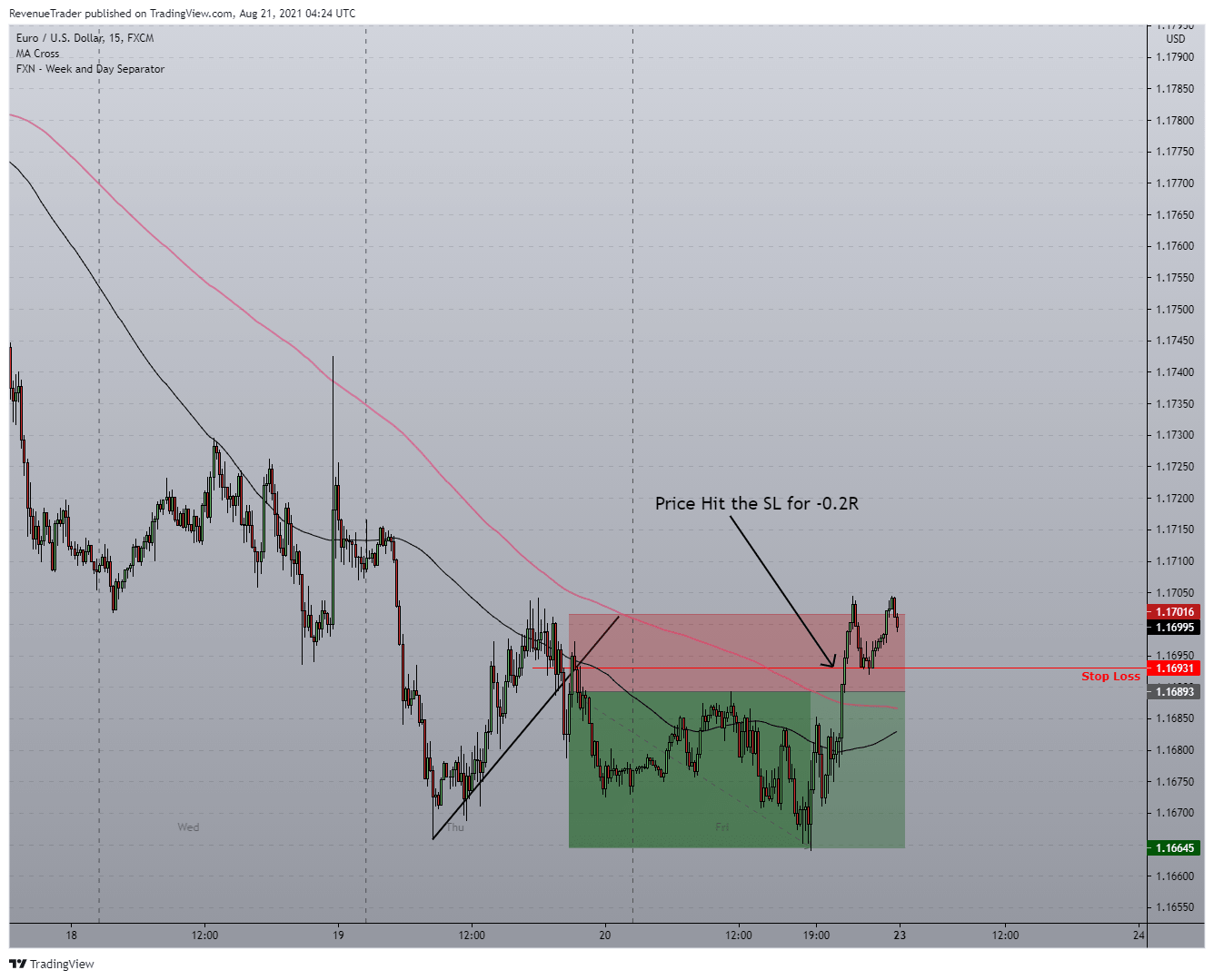 This is the third trade of the EURUSD for the last week and resulted in -0.2R.
Now observe the above chart carefully. what do you notice on there?
Just like the previous trades, we went short after the price pullback to D-Res and break below the counter trendline drawn in the above chart.
Again price moved in favour of a quit some time, but sellers have failed again. At that time, the price moved in our favour for +1.5R. Therefore we trailed stop-loss to -0.2R and eventually price moved up and hit the stop loss for -0.2R.
In total, we were able to gain 12.8R in just a week. In percentage, we were able to gain 12.8% which is a phenomenal gain for a single week.
Finally, Besides these trades, Did you execute any trades? if so, let us know in the comment section.
With that…
Head over to Trade Revenue Pro Trading Blog to learn more about how to trade forex with Proven Trading Techniques and Strategies.
Want more Trade Ideas – Head over to Trade Idea Page.
That is all for this week and If you want constant trade updates – consider following Trade Revenue Por on Tradingview.
Also, consider following us on social media and Pinterest, Instagram and Facebook.