Many forex traders are going to automatic trading these days, which could be due to their inability to control their emotions.
In fact, there are thousands of EAs on the market that can be purchased. One of these EAs is Hamster EA, also known as Hamster Scalping.
In this post, we will discuss the Hamster Scalping EA, which, unlike the trio dancer EA, does not use martingale money management.
You will learn every detail regarding Hamster EA at the end of this post.
What is Hamster Scalping EA (or Hamster EA)?
The Hamster Scalping Expert Advisor is a completely automated Expert Advisor that does not use a martingale money management strategy.
The night scalping strategy is used by this EA. For precise scalping trade entries, the RSI indicator and an ATR-based filter are used.
Use a broker with strong execution speed and a 2-5 point spread, and specify that you want a highly fast VPS server with a ping of no more than 3.
Both four- and five-digit quotations are accepted by the Hamster EA. If you enter the values in points for 5 characters in the input parameters, it will automatically recalculate everything by 4 characters.
1. Period indicator1 – Select which period does the indicator should use.
2. Up level – The first indicator's upper limit, above which the EA will enter Sell mode.
3. Down Level – The first indicator's lower level, below which the EA will open a Buy position.
4. Period indicator2 – Select which period does the second indicator should use.
5. From – The lower limits of the second indicator's range of values, within which the EA is permitted to open positions.
6. To – The upper limits of the second indicator's range of values, within which the EA is permitted to open positions.
7. Initial lot – An initial lot that the hamster ea should use when executing trade.
8. Auto lot – In here you can enable and disable the auto lot option. If enable hamster scalping automatically calculate the lot size.
9. Auto lot size – When Auto lot is activated, the deposit amount will be used to determine which Lot will be used.
10. Max Lot – Maximum lot size for the Hamster EA operation.
11. Take Profit, points – Your Actual take profit in points.
12. Stop Loss, points – Your real stop-loss that ea should use.
13. Virtual Take Profit – Set the virtual take profit.
14. Option Take Profit –Based on the bar Open / current price, select the take profit operation.
15. Level of Taking Profit – Choose a take profit computation based on the breakeven point or the most recent order.
16. Virtual Stop Loss – Set the virtual stop loss.
17. Options Stop Loss – Choose between a take profit calculation based on the breakeven point and a take profit calculation based on the most recent order.
18. Max Orders – The maximum allowed number of open orders.
19. Star Hour – Set the Hamster EA operation start hour.
20. End Hour – Set the Hamster Scalping EA operation end hour.
21. Use Wednesday Logics – If true, the EA will not work on Wednesday night, whereas if false, it will operate normally.
22. End Time Friday – Set the time to stop trading on Friday.
23. Max Spread – Set the maximum spread, at which the hamster scalping EA is allowed to open and close positions;
24. Show Statistics – Set the setting to show/hide account statistics.
25. Show Button Close – Set option to enable/disable the button for closing orders.
26. Magic EA – The number that the Expert Advisor uses to determine its positions.
27. Take Profit, points – Where to place take profit order.
28. Stop Loss, points – Where to place the stop-loss order.
29. FontSize – setting the font size in which hamster scalping should use.
30. Close all orders at taking or stop – shutting both directions at the same time; on/off.
31. Imp1DRAW, Imp2DRAW, Imp3DRAW – (enable/disable) displaying news on the chart.
Hamster Scalping EA Performace.
Tracking of actual work, as well as the other improvements of the Hamster EA, can be seen here: https://www.mql5.com/ru/users/mechanic/seller
Here is an mt4 screenshot of hamster EA performance.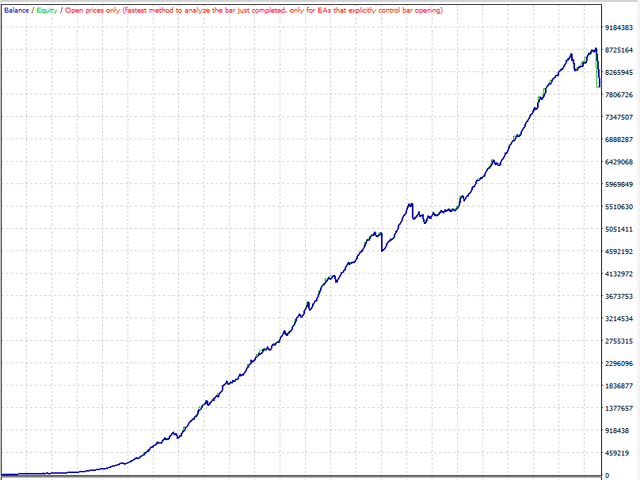 Here is a video which backtest this hamster scanlping EA (Hamster EA) live. Based on this I can conclude that this EA is very promising. Watch it and let me know your thought on this EA.
Even a myfxbook shows that hamster EA can be a profitable expert advisor. Have a look at the chart below.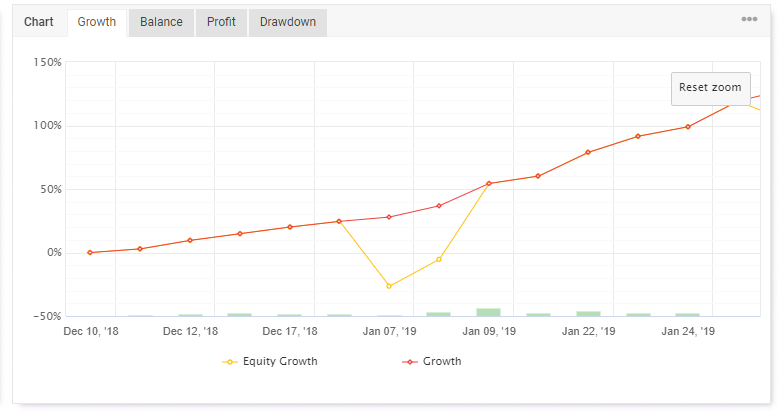 Although the above statistics seem very promising, you will suffer from bigger drawdowns.
Have a look at the drawdown of the same statics. This is a drawdown of a negative 75%. You know how bad it is, right? Therefore you should think twice before trading your real money with this indicator.
Here is the link to the myfxbook – Link to the account statistics
Recommendation
A $100 minimum balance is required.
EURUSD and GBPUSD are the best currencies to trade (Work on any pair but make sure to use high volatile markets).
Work on Any Timeframe (lower timeframe will increase the trade frequency while higher timeframe has low trade frequency).
I recommend using a VPS to run this free forex Trio Dancer v3 EA 24 hours a day, seven days a week.
ECN accounts with low spreads are also suggested.
User Reviews
Based on the things I have found, I can say some people like this indicator while others are not.
Here is a negative review for this EA.

… and here is a positive review.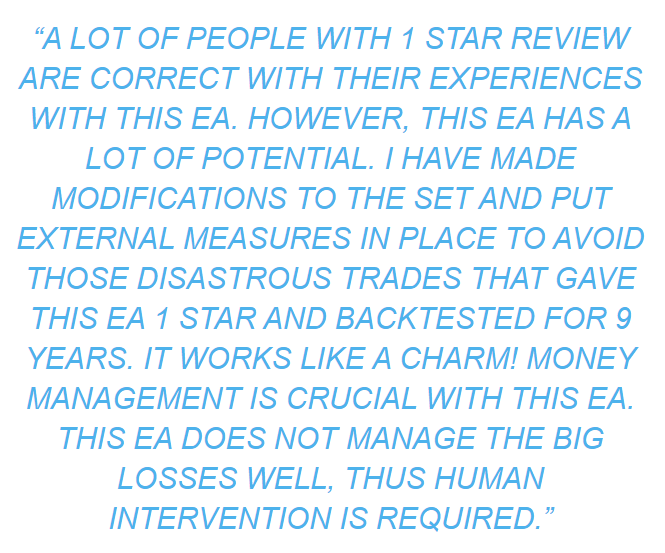 What is Our Thought About This EA
We say that you should test this EA with a demo account to find if the EA is working for you or not. And also you should change some settings and recheck if the minor adjustment can change the performance and also make sure to add risk management rules to it as well.
That is our thought.
Now, what is your thought, Are you going ahead and buying it, or consider or just avoid it. Let us know in the comment section.