Automated trading is slowly starting to get popular and popular. In fact, there are thousands of EA's are available to purchase in the market. There are good EA's and most of them are totally scams.
Today in this article we will talk about Trio Dancer EA, which uses martingale money management. At the end of this article about this expert advice, you will know about every detail about Trio dancer EA.
What is Trio Dancer EA?
Trio Dancer 3 EA is a fully automated EA that, according to major performance indicators like MYFXBOOK, is profitable in the long run.
This EA was created to profit from market swings. This free forex ea is based on the indicators like MACD, RSI, Stochastic, CCI, and moving averages. The Trio Dancer 3 robot trades using three separate strategies.
How Trio Dancer EA Work?
When a trade goes into the negative, the expert adviser places a new order with a larger lot size (Utilizing Martingale Money Management).
Forex Money Management: Martingale – An opportunity or a threat
By using this EA, it is possible to expose automatic capital control, in which the adviser calculates the stop loss and a lot size based on trading capital.
On Friday, if you want, there is also the possibility of disconnecting trading. This can be done by using the input set in the indicator.
Talking about the expert advice's inputs, here is a screenshot of the all adjustable setting of the trio dancer ea.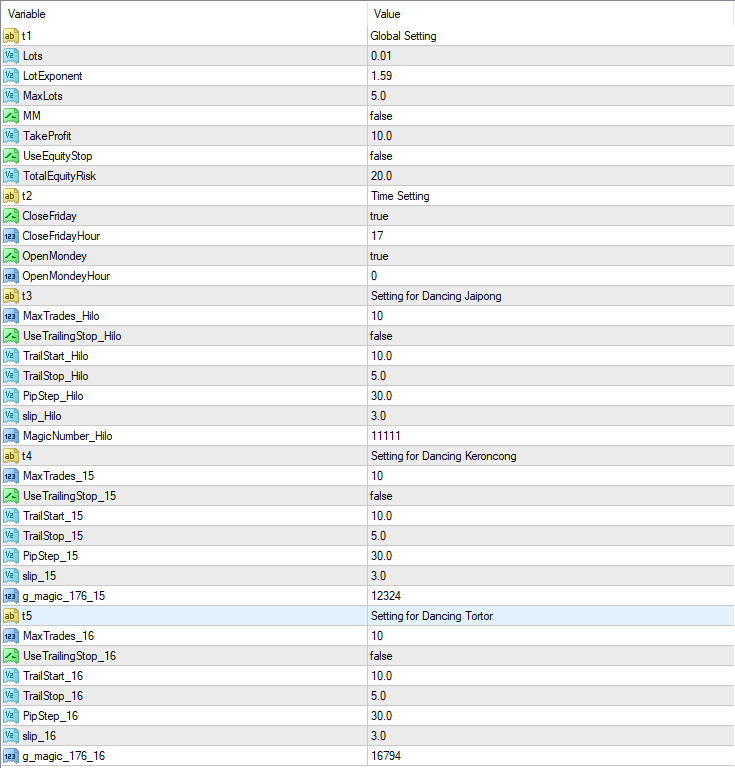 With that let's talk about the performance of this EA.
Performance of Trio Dance EA
I have done some deep research about this EA. Based on these researches, I have found that this trading strategy is profitable in the long and with small and consecutive gains followed by very small losers this EA can consistently grow your trading account.
But…
This trading strategy has massive drawdowns here and there. Some of these drawdowns are gone beyond the negative 50%. This is the only drawback in trio dancer EA.
With that here is the report of testing of the adviser of Trio Dancer for half a year by EURUSD pair:

Now here is another interesting finding of this EA. Have a look at the below equity curve we got from the myfxbook.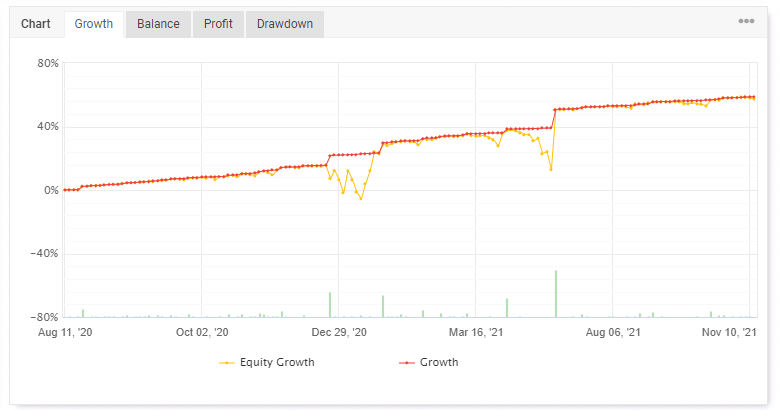 Here you can see that trio dancer EA were able to generate consistent profit from august 2020 to November 2021 with little to no drawdown in the balance curve. In percentage, it is a 58.76% gain which is not a bad gain for that time period, right?
But when we look at the drawdown chart, things are getting interesting. Have look at the drawdown chart below.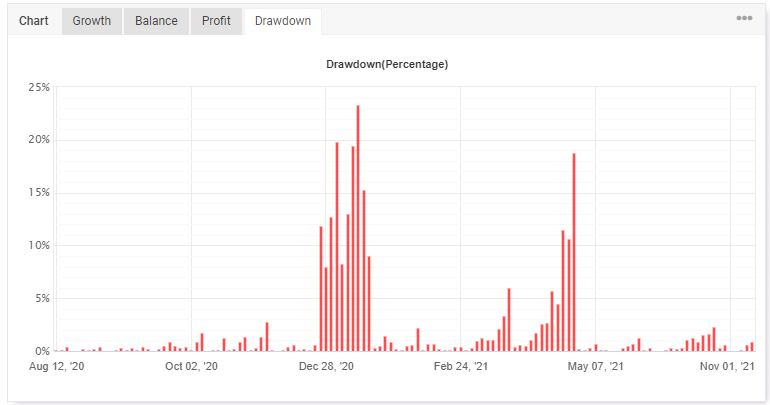 This is the drawdown chart for the above equity curve. Most of the time drawdowns are small have a look at the big spikes on the above chart. On there we can you can see that trio dancer EA spike above negative 20% multiple times which is not bad for trading account, right?
If you're a risk-averse trader, then these deep drawdowns will hurt you emotionally and financially. But if you are okay with these kinds of drawdowns here and there then, the trio dancer EA will be profitable in a long run for you.
Here is the link for the myfxbook account.
Recommendation
A $100 minimum balance is required.
EURUSD and GBPUSD are the best currencies to trade (Work on any pair but make sure to use high volatile markets).
Work on Any Timeframe (lower timeframe will increase the trade frequency while higher timeframe has low trade frequency).
I recommend using a VPS to run this free forex Trio Dancer v3 EA 24 hours a day, seven days a week.
ECN accounts with low spreads are also suggested.
As we can see, the Trio Dancer adviser produced excellent results even without sags, even when the Martingale approach was employed. I strongly advise you to pay attention to this robot, and I wish you success!
Now let me know in the comment section. What is your thought about Trio Dancer EA?